Biolog
Lois McMaster Bujold, Updated 21 September 2004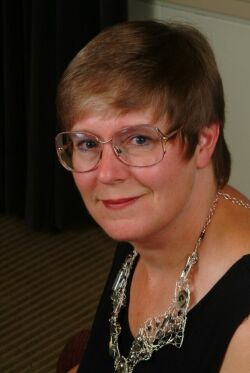 I was born in Columbus, Ohio, in 1949. I graduated from Upper Arlington High School in 1967, and attended the Ohio State University from 1968 to 1972. I have two children, Anne, born in 1979, and Paul, born in 1981. We resided in Marion, Ohio, from 1980 to 1995, and moved to Minneapolis, Minnesota, in 1995.
I've been a voracious reader all my life, beginning with a passion for horse stories in grade school. I began reading adult science fiction when I was nine, a taste picked up from my father. He was a professor of Welding Engineering at Ohio State and an old Cal Tech man (Ph.D.'s in physics and electrical engineering, magna cum laude, 1944), and used to buy the science fiction magazines and paperback books to read on the plane on consulting trips; these naturally fell to me. My reading tastes later expanded to include history, mysteries, romance, travel, war, poetry, etc.
My early writing efforts began in junior high school. By eighth grade I was putting out fragmentary imitations of my favorite writers — on my own time, of course, not for any class. My best friend Lillian Stewart and I collaborated on extended story lines throughout high school; again only a fragment of the total was written out. The high point of my high school years was a summer in Europe at age 15, hitchhiking with my older brother.
I dabbled with English as a major in college, but quickly fell away from it — my heart was in the creative, not the critical end of things. But an interest in wildlife and close-up photography led me on a six-week biology study tour of East Africa. Eight hundred slides of bugs; much later I also borrowed the landscape and ecology I had seen for background of my first novel. That's one of the nicest things about writing, all of a sudden nothing is wasted. Even one's failures are re-classified as raw material.
After college I worked as a pharmacy technician at the Ohio State University Hospitals, until I quit to start my family. This was a fallow time for writing, except for a Sherlock Holmes pastiche that ran about 60 pages. It was however a very fruitful time for reading, as my Staff card admitted me to OSU's 2 million volume main stacks, filled with wonders and obscurities.
Then my old friend Lillian, now Lillian Stewart Carl, began writing again, making her first sales. About this time it occurred to me that if she could do it, I could do it too. I was unemployed with two small children (note oxymoron) on a very straitened budget in Marion at this point, but the hobby required no initial monetary investment. I wrote a novelette for practice, then embarked on my first novel with help and encouragement from Lillian and Patricia C. Wrede, a fantasy writer from Minneapolis.
I quickly discovered that writing was far too demanding and draining to justify as a hobby, and that only serious professional recognition would satisfy me. Whatever had to be done, in terms of writing, re-writing, cutting, editorial analysis, and trying again, I was determined to learn to do. This was an immensely fruitful period in my growth as a writer, all of it invisible to the outside observer.
My first novel, Shards of Honor, was completed in 1983: the second, The Warrior's Apprentice, in 1984; and the third, Ethan of Athos, in 1985. As each one came off the boards it began the painfully slow process of submission to the New York publishers. I also wrote a few short stories which I began circulating to the magazine markets. In late 1984 the third of these sold to Twilight Zone Magazine, my first professional sale. This thin proof of my professional status had to stretch until October of 1985, when all three completed novels were bought by Baen Books. They were published as original paperbacks in June, August, and December of 1986, leading the uninitiated to imagine that I wrote a book every three months.
Analog Magazine serialized my fourth novel, Falling Free, in the winter of '87-'88; it went on to win my first Nebula. I was particularly pleased to be featured in Analog, my late father's favorite magazine — I still have the check stub from the gift subscription my father bought me when I was 13 (a year for $4.00). "The Mountains of Mourning," also appearing in Analog, went on to win both Hugo and Nebula Awards for best novella of 1989, and The Vor Game and Barrayar won Hugos for best novel back to back in 1991 and 1992. My titles have been translated into nineteen languages (so far).
I broke into hardcover at last with The Spirit Ring in 1992, a historical fantasy, and returned to the universe and times of Miles Vorkosigan with Mirror Dance, which won the Hugo and Locus awards in 1995. My next novel was a lighter series prequel, Cetaganda, serialized in Analog starting with the September '95 issue, then released in hardcover in January '96 by Baen Books. I had my first experience as an editor, along with Roland Green, putting together the anthology Women at War, published by Tor Books in 1995. Memory had hardcover publication in October 1996, and was a Hugo and a Nebula nominee. Komarr was published in June 1998, and was the recipient of a Minnesota Book Award in the science fiction and fantasy category. A Civil Campaign, the direct sequel to Komarr, was published in September 1999, garnered my sixth Hugo nomination in the novel category, and was my fourth Nebula novel nominee. Sample chapters of several of my SF titles are available at www.baen.com, along with a free download of the complete text of my award-winning novella "The Mountains of Mourning" in the Baen Free Library. A Miles adventure titled Diplomatic Immunity, May 2002, was a Nebula Award nominee.
A new fantasy novel, The Curse of Chalion, saw publication in August 2001 from Eos/HarperCollins (www.eosbooks.com). It scored my seventh Hugo nomination for best novel, my first nomination for the World Fantasy Award, and won the Mythopoeic Award for best adult fantasy, given by this society. (www.mythosoc.org/a02remarks.html My acceptance speech is posted there.) Chalion saw paperback release in October 2002.
The sequel, Paladin of Souls, was published by Eos/HarperCollins in the fall of 2003. It was a Mythopoeic and a Minnesota Book Award nominee, won a Romantic Times 2003 Reviewers' Choice Award for best fantasy novel, the Locus award for best fantasy novel, and the Hugo Award for best novel.
A third book in the world of Chalion, The Hallowed Hunt, was published by Eos in June of 2005.
The Bujold Nexus, my own fan-run website, is at www.dendarii.com with more information.
© 1996-2004 by Lois McMaster Bujold
Photo © 2004 Beth Gwinn. For information on permissions, contact BethGwinn@aol.com
Webpage design by Michael Bernardi, mike@dendarii.co.uk
---
---
All comments or queries about this Web page to: webmaster@dendarii.co.uk
Last updated: August 29th 2005
---